"The needs of the many outweigh the needs of the few, or the one."
- Spock -
Where to Find Us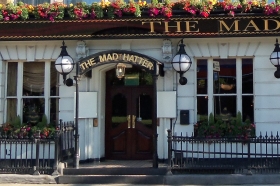 The Mad Hatter
3-7 Stamford Street
London SE1 9NY
360 Tour inside the pubtake a virtual look round before you visit!
We are back! Check out our Meetup page for the details of our latest meetings, which are in the restaurant area of The Mad Hatter, Stamford Street.
Please do not attend if you are showing Covid/cold like symptoms for everyone's safety.
The Mad Hatter is on the south side of Blackfriars Bridge map of the area and Google Street View
Travel
Blackfriars or Southwark tube stations are only a short walk away or it's around 10-15 minutes from Waterloo station.
Several buses stop close by, please see this map for details Southwark Bus Map
For the latest travel information and an excellent journey planner please visit the Transport for London website
Accessibilty
The pub has a couple of steps at the entrance but there is also a slope if you can't manage steps at all. The whole bar area is flat and there is a disabled toilet on the same floor by the hotel reception.