"Every Generation Has A Legend. Every Journey Has A First Step. Every Saga Has A Beginning."
- Star Wars - Episode I -
10 Years of LOTNA (1998-2008)
by Dave Baseley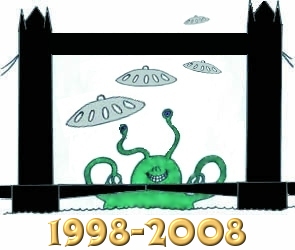 It was 10 years ago at a place called Pages Bar where LOTNA began.
Well technically it all began in 1994 when a man called Pat decided it would be a good idea to run a full Star Trek costumed day around London, which he called an away team. Being new to Pages Bar's Saturday Star Trek nights I decided to pop along and together with 6 other people including Corinne and former-regular Heidi had a great day out.
The month after we did it again. Pat declined to come but we had new friends joining us including Janine (who only came to keep a friend company), Stan and Lorraine (now known as Ash), Darren and Owen. The group kept growing and soon known as the Pages Radical Away Team Society (P.R.A.T.S.) and was a good time for all who joined in. As well as meeting at Pages, the monthly away teams became a regular fun feature.
However, after a year Pages bar seemed to lose its friendly feel. No longer could a fan go and talk to another fan without receiving a "who are you?" attitude but we continued on as best we could trying to include anyone who was interested. In 1996 I flew off to New Zealand for a year and Corinne did an excellent job of keeping the group together while I was away.
In mid 1997 I returned home with my new bride to London and rejoined my friends at Pages to find a much quieter bar with three or four groups each not socialising with the other and on some occasions being openly hostile. When our new friend Steve Steppens was asked not to bring his guide dog Nero with him as he left hairs on the carpet we decided enough was enough and it was time to move on.
Not finding a Sci-Fi club in London outside of Pages Bar, Corinne and I decided to take the bold move of starting our own club and taking anyone who wanted to come with us away from Pages.
So in March 1998 LOTNA was born in a pub that Corinne knew was quiet on a Saturday - The Horseshoe Inn near London Bridge. The first meetings were held in part of the main pub, as the back room had not been built. This meant sharing the bar with the locals, which was fine on a quiet night but difficult on a football night.
We found that the group needed a name to call itself and hit upon the "League of the Non-Aligned". This was based on a Babylon 5 reference and its intention was to show were not "aligned" to any particular science-fiction show but enjoyed them all. I think new members over the years have been pleased to find we live up to our name.
LOTNA soon moved to the upstairs function room and thanks to advertising started to attract new members as well as more of our friends who left Pages. The fine tradition of away teams started up again and we visited places like Hampton Court, HMS Belfast, Madame Tussards, Greenwich, Portsmouth and Chessington World of Adventures (a regular in the early years). All in full Star Trek costume of course! Well, almost everyone - it's never been compulsory.
LOTNA started to attend conventions like Cult TV as a group - our highest attendance was 24 of us in 2001. We also made a couple of fan films. The X-Spoof and Stardoor SG1: The Poppies of Doom. If you haven't seen them, I'll be glad to show them. Janine loves seeing them again!
In 2000, we hit upon an amazing brainwave of funding the group's activities, namely our world-famous LOTNA auction. Donating unwanted "treasures" for other members to buy up at bargain prices has meant never having to charge any fee for membership. Over the years we have raised over £6,000, which has funded equipment like TV sets, video & DVD players and our latest - a projector. We have spent the money on many things for the benefit of the group including outings, Christmas buffets, advertising, the LOTNA calendar and 4 years sponsorship of Cult TV guests. We are a truly self-sufficient club!
When a back function room was added to the Horseshoe Inn in 2000, we had the room for our sole use and started showing rarities with our first auction bought TV set and video.
It's not to say that is has been completely smooth sailing. We had a member who decided they did not like the way LOTNA was run and made a big speech before throwing his plastic Klingon dagger at me and storming off. The next meet he stormed through the door shouted my name and extended his plastic lightsabre. Needless to say his feet didn't touch the ground as he was escorted from the premises and barred by the landlord.
Nevertheless we grew and grew losing some members but gaining more and over time were outgrowing the Horseshoe Inn's function room. Around the same time we found the Horseshoe was double booking our room on a few occasions and the new bookings the priority. Hence we decided to move from the Horseshoe to The Miller of Mansfield in 2007.
Over this time we have had 3 weddings and one engagement from people who have met through the group. We have all met new friends because of the group and perhaps use the group as something to look forward to after a long week at work.
I have heard people describe LOTNA as a place where people are accepted for who they are, the thing that makes life at work bearable and the place where people have come out of their shells into the real world. It's obvious that the group means a lot to a lot of people and I for one am very proud to be part of it.
Here's to the next ten years!