"Carter : Well, this is beautiful. O'Neill : Yeah, but where there's a garden, there's snakes. Daniel: And flowers. Ah choo! … Way too many flowers!"
- Stargate SG-1, The Gamekeeper -
Stardoor SD1 - The Poppies of Doom
Oh, what HELL it has been trying to finish off this poem. It seemed like a good idea at the time! I was sitting on a train and got bored during the journey, so I started scrawling down the lines you see below. Hmm, good fun, I thought. I was meeting Corinne at the station but she was held up, so I sat in a cafe, and decided to pen a bit more.
Well, this is going fine, I thought. THEN I tried finishing it! Well, I won't say my brain survived unscathed, but I am oh so very glad its a pub night tomorrow night. I daren't say how many Beers I need to recover from the shock of finishing that poem!! But … at least it's finished. And I sincerely hope that the crazy nature of the verses can do justice to the insane nature of the production that is Stardoor SD1: The Poppies of Doom!
Guys in dresses,
With long flowing tresses
Making their comrades run
A strange looking door
Fake flowers galore
But that's all part of the fun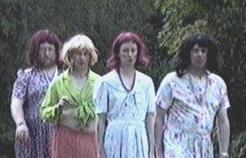 A glance at the script will tell you we're mad
But we don't find that fact terribly sad
The whole production got us out for the day
What a shame we scared everyone else away
SD1 come marching through the Stardoor
But pity poor Jackson whose hat ends up on the floor
It must be the scent of the strange looking flowers
They are sure to keep him sneezing for hours
Looking around, Carton thinks her dreams have come true,
Advanced eco-systems, strange foliage - and the sky is blue!
Accompanied by Meil'c she goes in search of vegetation,
The strange foliage on the planet a source of constant fascination,
What is the secret behind the advanced eco systems all around?
An examination with a screwdriver
will ensure the answer is found!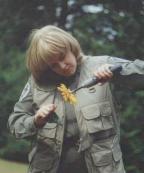 Led by Jock, the team hope to fare well
As long as they can get rid of that damn awful smell
From where can this mystifying smell come from
Follow your nose you won't be wrong
Someone should tell Jock about his footwear
Its simply too much for the nasal passages to bear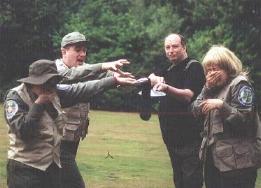 Through the stardoor SD1 go
Where SD2 are its impossible to know
The journey from Earth to the planet is a total breeze
But its strange how it makes one think of lavatories
Meil'c serious and takes it all in his stride
But the sniff of a flower reveals his lighter side
Chasing Sam with a cry of "yeah baby yeah!"
Another flower and he's devoted to prayer
A different flower - how weird could his next change be?
Goodness gracious, he's now a well dressed laydee!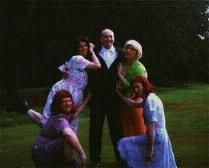 Jock and Jackson just want to get home,
So they embark on a mad dash to the dial home telephone
What a shame SD2 follow suit
So it's off again with some pretty guys in hot pursuit!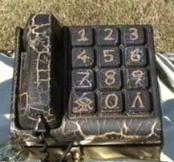 Remember the foul odour mentioned before?
It helps our team get back through the door
SD2 can't resist the sheer power of the smell,
Run away quick - it's the socks from hell!
Once again a smell leads to a change,
SD2 seem normal once again but something seems strange
Looking them over, Jock asks "are you OK?"
"I am well" is all that they say
Jackson dials a number on the telephone,
And the sound of a flush means they're all going home.
They step into the door giving the planet one last look,
And in an instant, Jock thinks of Kirk's little black book.
He seizes his chance seconds before they go through the Door,
His prize in hand he declares, "you won't need that any more"
Grinning wildly he flicks through the pages.
"I must wash wash my socks!" he resolves,
"I've fancied her for ages!!"