"Trust no one."
- Deep Throat, The X-Files -
Planes, Thunderstorms and Automobiles!
By Sue Griffiths
Have you seen the section on our movie yet? If not, check it out… I think you'll have as much fun viewing our antics as we did putting it all into production! However, production was not without it's hitches. "Never work with Animals and Children" is a well known phrase but fails to take into account other interesting distractions when film making.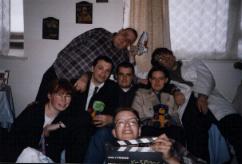 We found out all about this when we set about filming the outdoor scenes of our movie.Once the actors had got their lines right, and the cameras were all lined up, it seemed like all would be fine. Then. We heard it. - Nyoooowm!
It seemed like the pilots in the area had telepathically been sent a message about when we would start filming. We commenced the scene, we got the lines right and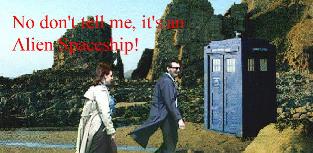 We got the noise of a plane in the background. So, we went for it again, and maybe the pilot of the plane in question had invited his friend along as - along came another one! So, we tried doing the scene again.
I'm pleased to say we got there in the end, even though it took longer than anticipated. Then, it was on to shooting the street scenes. There we were, happily filming the antics of Smolder and Scrummy in their pursuit of Dr Nasty when:
There was a massive roll of thunder!
Quite how we got the scenes in question done and everything packed away before the heavens opened, I don't know, but I'm very glad we did. Let's just say we chose to film outdoors on the one day when it rained so hard roads looked like rivers!
Oh, the challenges of making movies…!